A viral letter claimed to be written and sent by Prime Minister Narendra Modi to Chief Justice of the Supreme Court Ranjan Gogoi just after the Ayodhya verdict is being circulated on social media. This very letter is dated on November 11 and reads, "Dear Chief Justice Ranjan Gogoi, Let me begin by congratulating you and your bench Justice S.A. Bobde, Justice D.Y. Chandrachud, Justice Ashok Bhushan & Justice S. Abdul Nazeer for your stupendous contribution to Hindu Rashtra. Hindus will always be grateful to you and your team for your compendable and memorable decision, which will make a new history for Hindu Rashtra. I wish you and your family the very best for your future endeavours and once again congratulate you for this remarkable decision. Thank you for the wonderful support at this crucial time."
---
Since November 11 this letter is trending on various social media websites.
The letter was published by many Bangladeshi news outlets. India on Wednesday officially condemned the spread of this 'fake' and 'malicious' news by some of the Bangladeshi media which stated that Narendra Modi congratulated the Chief Justice of India Mr Ranjan Gogoi for contributing to the Hindu Rashtra by giving the Ayodhya verdict in favour of Hindus.
The spokesperson of External Affairs Ministry Mr Raveesh Kumar criticized the spreading of the fake letter as an attempt to create disharmony between people of India and Bangladesh.
We strongly condemn those responsible for deliberately spreading such fake and malicious news, to divide communities, create disharmony and undermine friendship between the people of India and Bangladesh. https://t.co/LEdXxutzNc

— Raveesh Kumar (@MEAIndia) November 13, 2019
---
Fact Check
If the letter was indeed sent by Modi the language ought to much different. The PM of a secular country cannot officially congratulate the Chief Justice on behalf of one particular community of Hindus. Statements like "Hindus will always be grateful to you and your team for your compendable and memorable decision, which will make a new history for Hindu Rashtra" and "Thank you for the wonderful support at this crucial time" can create tension within the government and as well within the country.
Also, there is a typo in the letter. The word 'commendable' is misspelt as 'compendable'. There are very negligible chances that the Prime Minister of India will write an official letter to the Chief justice, congratulating him on his landmark verdict with a spelling mistake. And, moreover, if a letter was actually sent by the PM, it would have been national news all across the country.
Lastly, to top it all the tweet of Mr. Raveesh Kumar clarifies all kinds of doubts regarding the authenticity of the letter under question.Adding to that even the Indian High Commission in Dhaka, in a statement, said it is completely fake.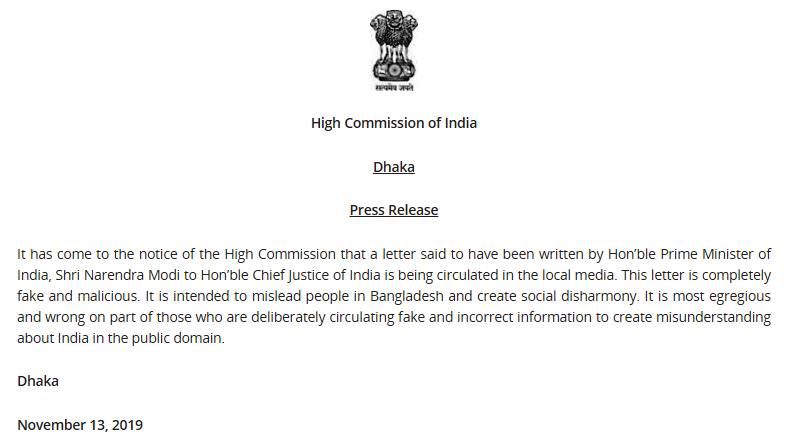 So, the PM Modi's letter to Mr. Gogoi is a fake one.
---
Also Read: Fact Check: Whether Price Hike Rollback Of JNU Is Indeed A Major One?
Editor : The Logical Indian