When seven-year-old Tajamul Islam, enters the ring, she ceases to be a kid. Her lean and agile figure, weighing just 25 kg, becomes taut, her endearing little face stiffens, soon acquiring a menacing look. Action follows soon after. Her feet start dancing and her fists fly. Armed with a chest guard, headgear and gloves, her lightening punches and kicks hardly let the opponent respond.
This is how she won gold in sub-junior category in the National Kickboxing Championship held in New Delhi in December. With that win, she earned a selection to represent India in the World Championships to be held in Andria, Italy in November. She will be the first ever Kashmiri girl to do so.
---
KASHMIRI GIRL LEADS THE WAY
Tajamul hails from Tarkpora, an obscure village in North Kashmir's Bandipora district. Her father Ghulam Mohammad Lone, a driver with Hindustan Construction Company, earns just enough to manage two square meals a day for his family. Tajamul has two more sisters and two brothers who too are learning martial arts.
But she has now far outstripped them, an accomplishment that is traced to her 'surfeit of the talent'. Her journey so far has been swift. It was only in 2014 that she was sent by her Army school to participate in the districts martial arts championship organized by Faisal Ali Dar, a martial arts instructor and coach. Ali runs a martial arts academy in the town.
"I spotted Tajamul from the distance. She wasn't yet completely conversant with the rules of the game but she had the speed, a terrific speed," says Dar who has twelve years of coaching experience. "I found her instinctively aggressive."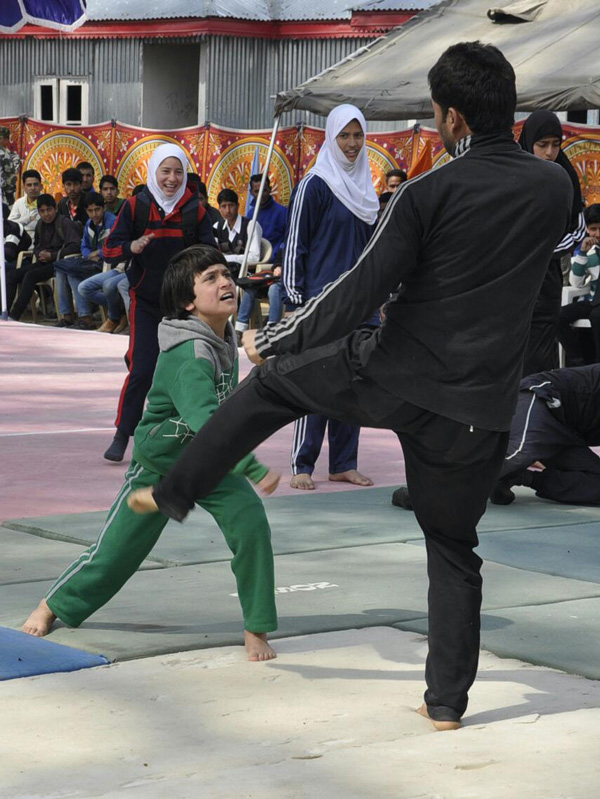 Photo: Riyaz-ur-Rehman
---
FAR AHEAD OF THE PACK
Tajamul won the competition but Dar wouldn't let go of her. He called her father and requested him to hand the girl over to him for more training. He agreed but with the condition that all his children will come. Tajamul attended the academy after school hours, with her four siblings from the nearby locality, where her family had now shifted from their village.
"A few days into the training, and she was all over the place. She didn't only lord it over inside the ring but outside it too," says Dar. "Not only kickboxing, she also took part in dancing, singing and debating, And fights too. She is a girl nobody would dare mess with."
This is also the first impression one gets after meeting her. You wouldn't notice the shyness in her that is associated with girls of the same age. It isn't in her DNA to hide from the attention. She is also not one to be intimidated if you ask a question. And certainly not the one to unquestioningly defer to you if you assert some authority over her.
So what do you want to become in life? "A doctor", she replies.
But why? "I break the bones of people. I want to set them right too".
---
HER ROAD TO SUCCESS
But Dar hasn't tried to discipline her. Instead, he has encouraged her to be more aggressive. "These are the attributes that serve her well once inside the ring," he says. "She is a cute little girl but a big bully. She is out there to fight and win".
This is the streak she has displayed in all her competitions so far. Starting with the district level championship at Bandipora in 2014 which brought her to the notice of her coach and the State Level Championship held last year in Jammu where she was declared the best fighter of J&K.
In a surprise move, Chief Coach at the championship Kuldip Handu pitted sub-junior contenders against the competitors weighing 8 kg more than them. And while others struggled, Tajamul wouldn't be cowed down. Dar, the referee at the time, remembers her putting her taller opponent on the defensive from the word go.
"Her fighting skills were on display in all their beauty," says Dar. "She was so fast that at times she seemed to have dissolved into to a blur of movement".
Handu stood up and took note, asking who this girl was. Dar had to stop the fight and introduce her. The fight resumed and Tajamul soon got the better of her opponent.
The competition earned her a selection for the national kickboxing championship at Talkatora Stadium in New Delhi. It was here that Tajamul demonstrated the mastery of her Art to one and all.
She defeated her contenders from the six states – New Delhi, Haryana, Telengana, Bihar, Maharashtra and Manipur.
Photo: Riyaz-ur-Rehman
Now, looking forward to participate in world kickboxing
championship
in Italy, Tajamul can't stop asking her parents when November will come. "Papa, how many months are there till November, she asks me everyday," Lone says. "We tell her keep working hard. Wait will soon be over".
She will be called to New Delhi one month before the departure to Italy to participate in the preparatory camp for the championship. The coaches will try and enhance her speed further and reinforce her reflexes. They will work on the timing of her punching, kicking and foot-sweeps. They will also try and perfect her blocks.
In Andria, she will be face to face with the best in the game, with around 100 nations participating. But she's not daunted by the upcoming challenge.
"I will go and win. I will beat everybody," says Tajamul, closing her right eye and drawing her face in an irreverent smile. "You know I am the champion".
Read More At: Catch News
Editor : The Logical Indian