Same-Sex Marriage, Abortion Now Legal In Northern Ireland As Parliament Scraps 19th Century Laws
Image Credit:<a href="https://twitter.com/sineadgleeson/status/1186175334477115392?ref_src=twsrc^tfw|twcamp^tweetembed|twterm^1186175334477115392&amp;ref_url=https://thelogicalindian.com/wp-admin/post.php?post=156054&action=edit" target="_blank" rel="noopener noreferrer"><span class="css-901oao css-16my406 r-1qd0xha r-ad9z0x r-bcqeeo r-qvutc0">Sin�ad Gleeson/Twitter</span></a>
In a historic move, Northern Ireland is all set to decriminalise abortion and legalise same-sex marriage as the Parliament passed the bill seeking repulsion of Section 58 and Section 59 of the Offences Against the Person Act 1861, on Monday, October 22.
This is a momentous day for Northern Ireland.✊

I'm so proud to have played a part in the decriminalisation of abortion and the legalisation of same-sex marriage for NI.

.@stellacreasy .@ConorMcGinn #abortionrightsNI #equalmarriage #TheNorthIsNow pic.twitter.com/OhOPrv5rcD

— Diana Johnson MP (@DianaJohnsonMP) October 22, 2019
The progressive decision comes after British lawmakers voted in favour of changing these laws last year.
The suspension of the local government for over two-and-a-half years due to dispute between the major Protestant and Catholic parties, allowed the Parliament to step in and bring laws in line with Britain's principles of human rights.
---
What Does This Mean For People?
The amendment went into effect at midnight on Monday, after the High Court in Belfast rejected a legal challenge, ruling that Northern Ireland's 158-year-old abortion laws are incompatible with the United Kingdom's human rights.
The decision to decriminalise abortion and legalise same-sex marriage now allows women and girls in the country to have an abortion without the fear of being prosecuted. Women will also be given free transportation for abortion services in England.
The legislation also empowers queer couples to celebrate their love freely and without any fear of being prosecuted.
"The feeling on the ground is one of hope, hope that we might finally be able to celebrate our love in the same way that same-sex couples have been able to do in the rest of the UK and Ireland for some time now. Today we are walking a little taller than we were 48 hours ago," campaigner, Stephen Donnan-Dalzell said.
A historic day for Northern Ireland, with the extension of as same sex marriage and safe, legal abortion. There's always more to do, but in the midst of the #Brexit horror show, it's much-needed news. Brilliant work by @All4Choice and @Love_EqualityNI #TheNorthIsNow pic.twitter.com/GTHOuczNXY

— Sinéad Gleeson (@sineadgleeson) October 21, 2019
The government said that women can now buy medical abortion pills legally without a prescription. Women who seek medical assistance after consuming abortion pills will be able to do so, and health professionals will not be obliged to report the offence. Earlier Northern Ireland's strict laws forced citizens to travel abroad in the past for terminations.
"When it comes to being able to make decisions over their bodies, women and girls in Northern Ireland will no longer be threatened with the criminal law. It is vital that we do not now see any backroom deals in parliament or in the assembly to water down the commitment we made to treat women in Northern Ireland as equals. We will accept no more delays in the regulations governing access. Women in Northern Ireland have waited long enough. We will accept no more delays in the regulations governing access. Women in Northern Ireland have waited long enough," Labour MP Stella Creasy said.
This also means that medical professionals performing the procedure are no longer at risk of being charged with a criminal offence. Police will no longer investigate cases related to the termination of a pregnancy, and all current cases will be dropped.
---
Citizens Hail Government's Decision
The decision is seen as a progressive move for women's rights, and a giant leap towards marriage equality for the LGBTQ+ community in Northern Ireland.
Activists favouring the new law held cardboard letters spelling out "decriminalised" in front of Parliament after the protest.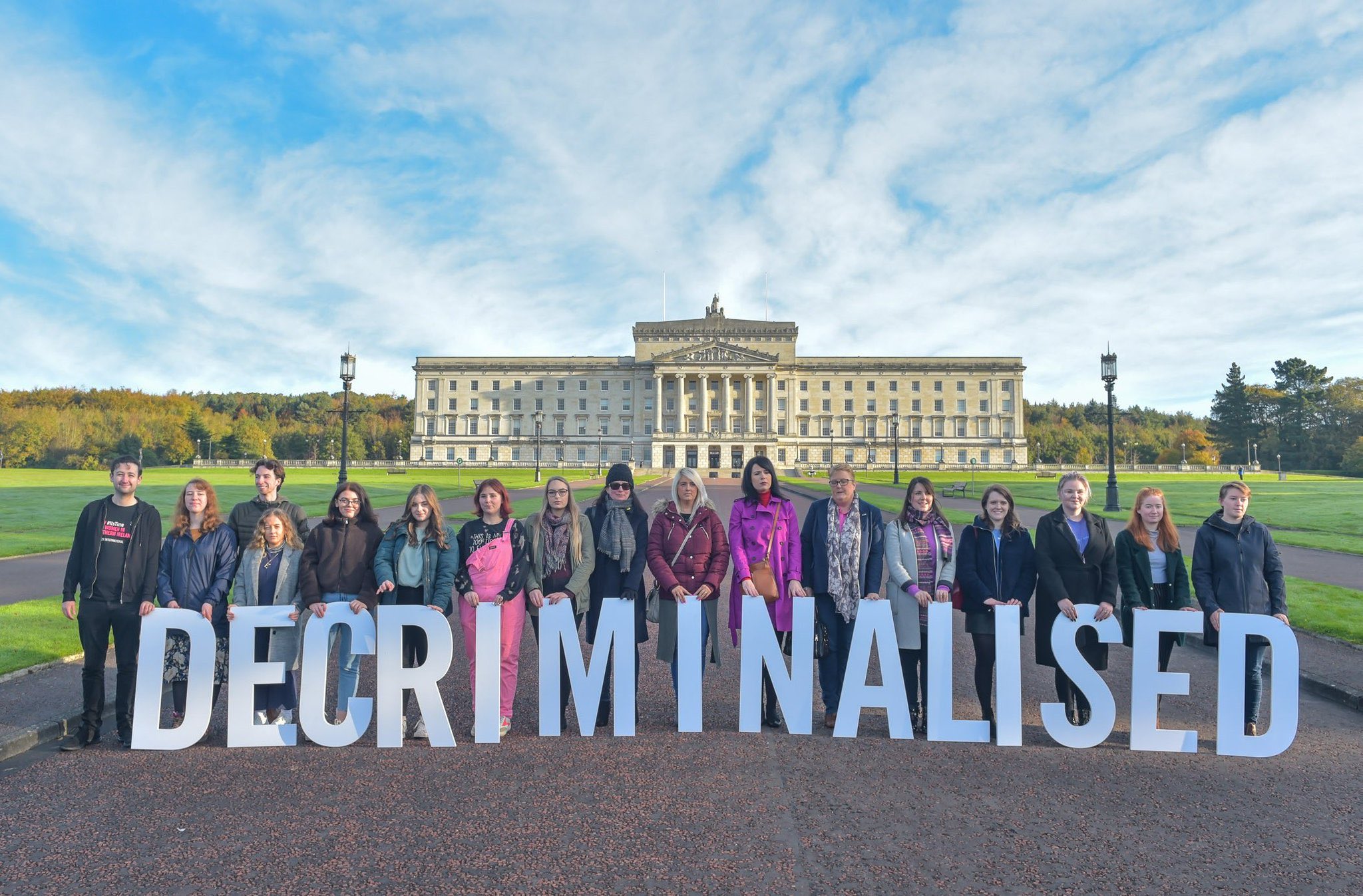 However, activists believe this is just a start and struggle against the stigma surrounding the issue will continue as many women had painful experiences under the restriction laws.
As per the recommendations of a report by the United Nations Committee on the Elimination of Discrimination Against Women (CEDAW), published in 2018, abortion should be legalised where there is a threat to a pregnant woman's mental or physical health, without the conditionality of "long-term or permanent" effects. It recommended termination in cases of rape or incest. The UN committee said abortion should be allowed where there is "severe fetal impairment", but that provision should not "perpetuate stereotypes" towards disabled people.
---
Resistance To Change
While some are hailing this as a remarkable change for women's human and reproductive rights, others are describing it as a "sad day" for Northern Ireland.
Anti-abortion activists resisted the changes and protested outside the Stormont Assembly on Monday.
In a bitter end to the decision, Democratic Unionist Party leader Arlene Foster said that the law change would not mark the end of legal efforts to prevent the introduction of abortion services in Northern Ireland. She said the party would explore more legal options. "This is not a day of celebration for the unborn," she said.
---
Also Read: A Romantic Getaway To Bali Could Land You Jail, Indonesia Proposes Bill Criminalizing Pre-Marital Sex
Suggest a correction