All section
Close
Explore Categories
Explore Tags
Man Who Threatened Activists, Authors & Journalists For Being "Anti-National" Booked By Delhi Police
Delhi Police have registered an FIR against a man who openly threatened to kill four prominent activists and a journalist on Thursday, 7 September.
The FIR was registered following a complaint from journalist Sagarika Ghose whose name is in the list of women, which include activists Kavitha Krishnan and Shehla Rashid and authors Shobha De and Arundhati Roy.
Deputy Commissioner of Police (Cyber Crime Cell) Anyesh Roy told Hindustan Times, "We have registered a FIR after receiving a complaint from journalist Sagarika Ghose under the Information Technology (IT) Act. She, in her complaint, said that she saw an open threat posts from a man who had two different accounts on the names of 'Vikram Aditya Rana And Vikramjb Rana' on Facebook and he is a native of Shillong."
---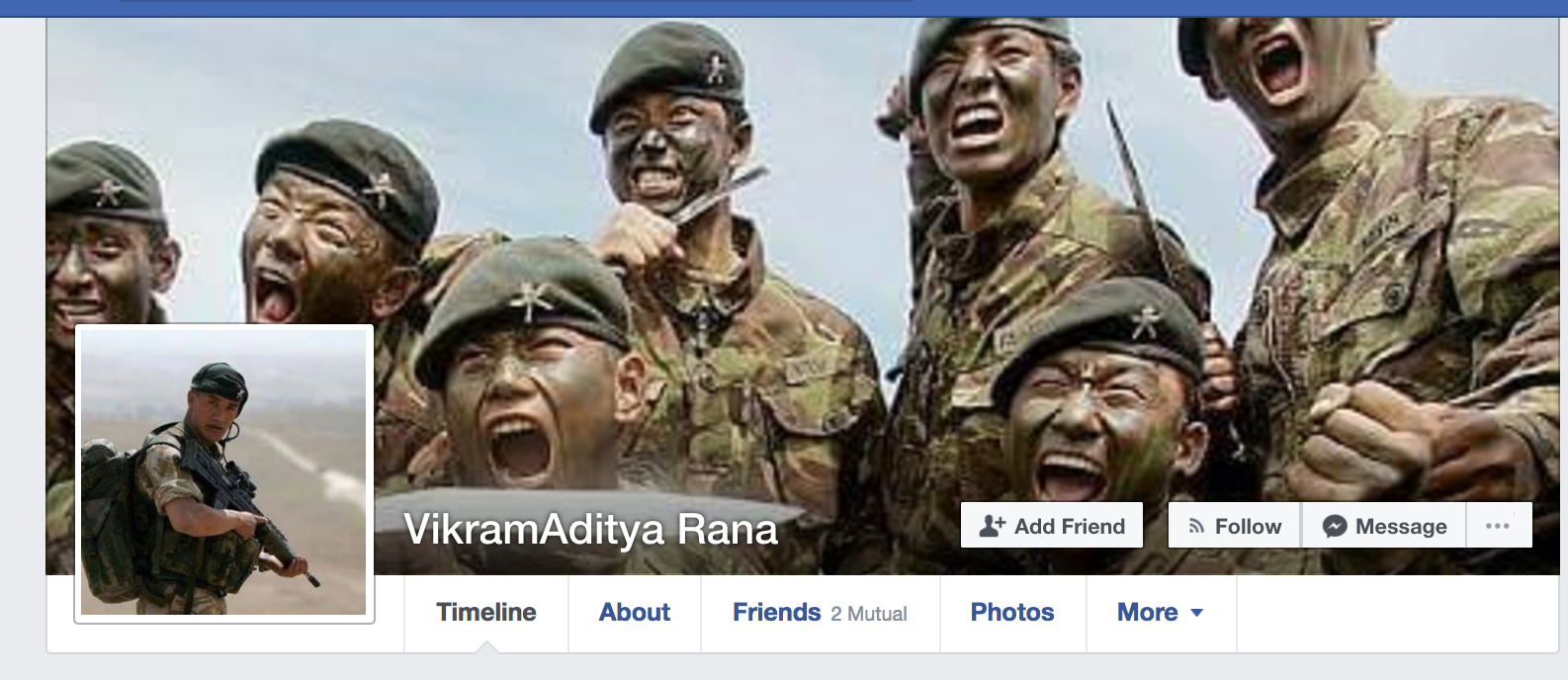 ---

---
He further added that Ghose said that the man has posted and shared his posts openly on his Facebook account on Tuesday, 5 September. He called her and four other women activists and journalists as anti-nationals who masquerade as activists and journalists.
On the same day, noted Kannada journalist Gauri Lankesh was murdered by unknown assailants outside her house in Bengaluru.
Roy further said that Rana had written a vituperative post on his Facebook wall, praising her killers. The post reads, "Serves her and her kind right for d damages these so called journos have caused our nation. Sagarika Ghose & Arundhati Roy, Kavitha Krishnan, Shehla Rashid, Umar Khalid, Kanhaiyya should be at d top of d list now."
---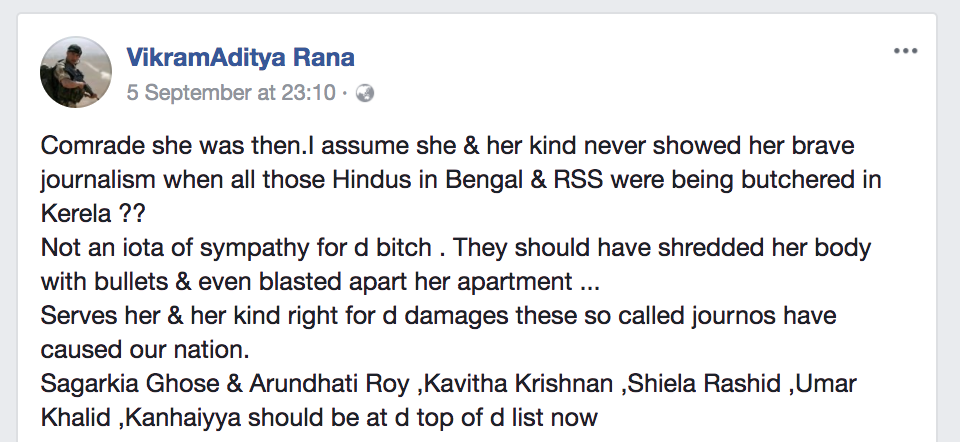 ---
The officer added that they received some screenshots copies along with the complaint by Ghose and have asked Facebook officials about the details of Rana related to his accounts and email IDs to track him. His IP address is also being traced.
In another post, he wrote: 'Let d shooting of #GauriLankesh serve as example to those antinationals who masquerade as journalists & activists. I hope this is not d last in a should be episode of serial assassinations of all anti nationals . Shobha De ;Arundhati Roy ;Sagarika Ghose ;Kavitha Krishnan ;Shiela Rashid etc at d end of a list that should start with antinational & treacherous politicians . A hit list be prepared & eliminate all those on d list .At last a ray of hope."
---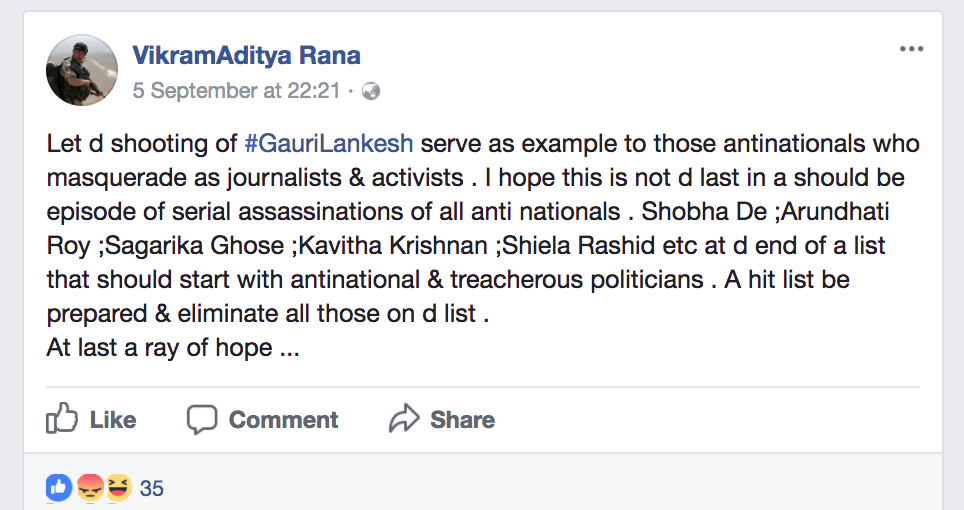 ---
The Logical Indian community condemns such acts by the people like Rana who do not respect democracy and the freedom of speech. Cyber abuse and threats should never be condoned or justified; they should be condemned unequivocally.
Editor : Rafia Rahim Rahim