All section
Close
Explore Categories
Explore Tags
Cyclone Fani To Enter Bangladesh After Triggering Rainfall In WB; PM To Visit Odisha
Cyclone Fani after causing serious damages in the state of Odisha has entered West Bengal post-midnight on Saturday (April 5/04/19). The "severe" cyclone in Odisha killed eight people, uprooted many trees, and damaged multiple infrastructures. Prime Minister Narendra Modi through his Tweet informed that he will be visiting Odisha on May 6 to take the stock of the situation. The storm is currently lying close to Arambagh in Hooghly district, West Bengal.
Day after tomorrow, on the 6th morning, I will be going to Odisha to take stock of the situation arising in the wake of Cyclone Fani.

— Chowkidar Narendra Modi (@narendramodi) May 4, 2019
Around 35,000 people from East and West Midnapore district spent last night in shelters.
The Meteorological department earlier said that the extremely severe cyclonic storm had weakened after making landfall in coastal Odisha and transformed into "very severe" as it made its way to West Bengal. According to Sanjib Bandyopadhyay, Deputy Director General of Regional Meteorological Centre, the cyclone entered the state of West Bengal at around 12:30 AM and was packed with a wind speed of 70-80 kmph, while crossing Kharagpur. Mr Bandyopadhyay further said that by the afternoon of Saturday, the cyclone would enter Bangladesh after weakening into a cyclonic storm.
The cyclone in the state caused heavy rainfall in cities and towns in coastal Bengal such as Mandarmani, Digha, and Tajpur. Parts of Kolkata too received moderate rainfall since May 4 afternoon.
---
Odisha prepared itself
On May 4 morning, Indian Meteorological Department (IMD) said that the process of Landfall of Cyclone FANI had begun near Puri in Odisha and the process was expected to be complete by 10 am. By 9:30 the eye of the Cyclone had moved completely on land.
Cyclone Fani is said to be the strongest tropical cyclone to hit India in 20 years. The last cyclone in 1999 hit the eastern coast claimed 10,000 lives.Here are the latest updates tracking the cyclonic storm FANI across the eastern coast of India.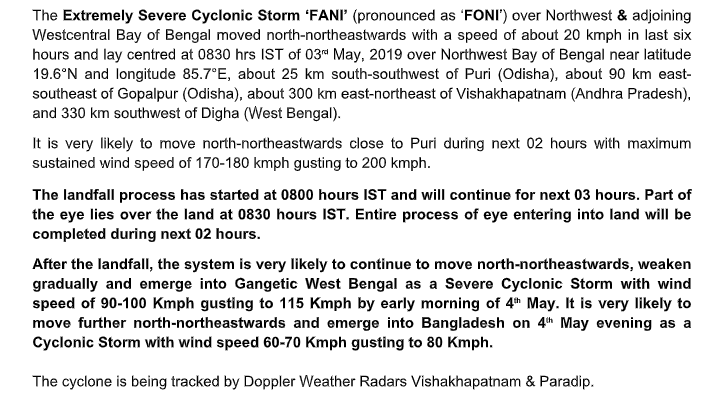 Chief minister Naveen Patnaik's office says 11 lakh people have been evacuated from the state of Odisha in the last 24 hrs alone. This figure includes 3 lakh people who have been evacuated from the Ganjam district alone, followed by 1.3 lakh from Puri.
Gopalpur, Puri, Bhubaneswar, Paradip, Chandbali, Balasore, Kalingapatnam have experienced heavy rainfall over night accompanied by strong winds. Srikakulam and Visakhapatnam in Andhra Pradesh also received heavy rain.
#CycloneFani Eye is on the land as per 09:30h radar image of Paradip. Please do not venture out. Stay safe. Follow official announcements. Source – IMD pic.twitter.com/DFYHg14mRc

— NDMA India (@ndmaindia) May 3, 2019
Interior districts of Odisha and the Gangetic west bengal have been warned of damage to power and communication lines, roads and uprooting of trees. Citizens are advised to stay indoors to avoid damage from debris.
Post landfall it is expected to emerge in Gangetic West Bengal before weakening and heading towards Bangladesh
---
---
Also Read: With Cyclone Fani Wreaking Havoc In Odisha, Here's Why Most Cyclones Hit India'a East Coast
Editor : The Logical Indian