BSNL, MTNL To Be Merged, Government's ₹56,000 Crores Revival Plan For Ailing Companies
Image Credit:<a href="https://cdn.pixabay.com/photo/2016/04/25/18/10/mobile-1352531_960_720.jpg" target="_blank" rel="noopener noreferrer"> Pixabay</a>, <a href="https://akm-img-a-in.tosshub.com/indiatoday/images/story/201806/Ravi_Shankar_Prasad.jpeg?VddSevFmGCuEHpNWSiA1LEimxBfSTWen" target="_blank" rel="noopener noreferrer">India Today</a>
As part of the revival plan for the two ailing telecom companies, the government has decided to merge state-owned telecom companies MTNL and BSNL. The plan was approved by the Union Cabinet on Wednesday, October 23.
Today when the Govt of PM @narendramodi has given such a liberal revival package to BSNL and MTNL, I urge the employees of both the companies to work hard to make these entities profitable and professional. pic.twitter.com/rMG6YL0RJw

— Ravi Shankar Prasad (@rsprasad) October 23, 2019
The cabinet approved a package of nearly Rs 70,000 crore for the two financially stressed companies and monetised real estate assets worth Rs 37,500 crore as part of the overall relief package.
MTNL operates in Delhi and Mumbai, and BSNL in the rest of India.
---
Revival Plan For Ailing Twin Companies
The revival plans also include ways to exploit the land assets of the two companies while paring their manpower by offering incentives to employees to avail an early retirement plan. The move is expected to retire debts, upgrade networks and offer a voluntary retirement scheme (VRS) with an aim of reducing the employee strength by half.
"BSNL and MTNL will also offer voluntary retirement to their employees, aged 50 years and above through attractive VRS," said the statement. "The ex-gratia component of VRS will require ₹17,169 crores in addition, GoI (Government of India) will be meeting the cost towards pension, gratuity and commutation."
Prasad told reporters that around half of the employees in BSNL and MTNL fit the VRS criteria. BSNL has 176,000 employees, compared with MTNL's around 22,000 employees. BSNL has been reporting losses continuously since 2009-10 and has been declared "incipient sick". The employee cost of BSNL is 75% and that of MTNL is 87% of the total income.
However, this move is likely to create some competition for private players and contain operational costs.
---
4G Spectrum
The plan would also include the allotment of 4G services at 2016 prices to the twin companies with the costs borne by the government and issue of sovereign bonds worth ₹15,000 crores to be serviced by the two companies.
4G Spectrum will be given to BSNL and MTNL on 2016 spectrum allocation prices to help them start 4G services. pic.twitter.com/5DruIt046J

— Ravi Shankar Prasad (@rsprasad) October 23, 2019
"The said (4G) spectrum will be funded by the government of India by capital infusion in these PSUs at a value of ₹20,140 crores in addition; the GST (goods and services tax) amount of ₹3,674 crores to this spectrum value will also be borne by the government of India through budgetary resources," said a government statement.
The government's aim is to make BSNL and MTNL compete more effectively in the domestic telecom market where a heavy tariff war and rising debt have affected players.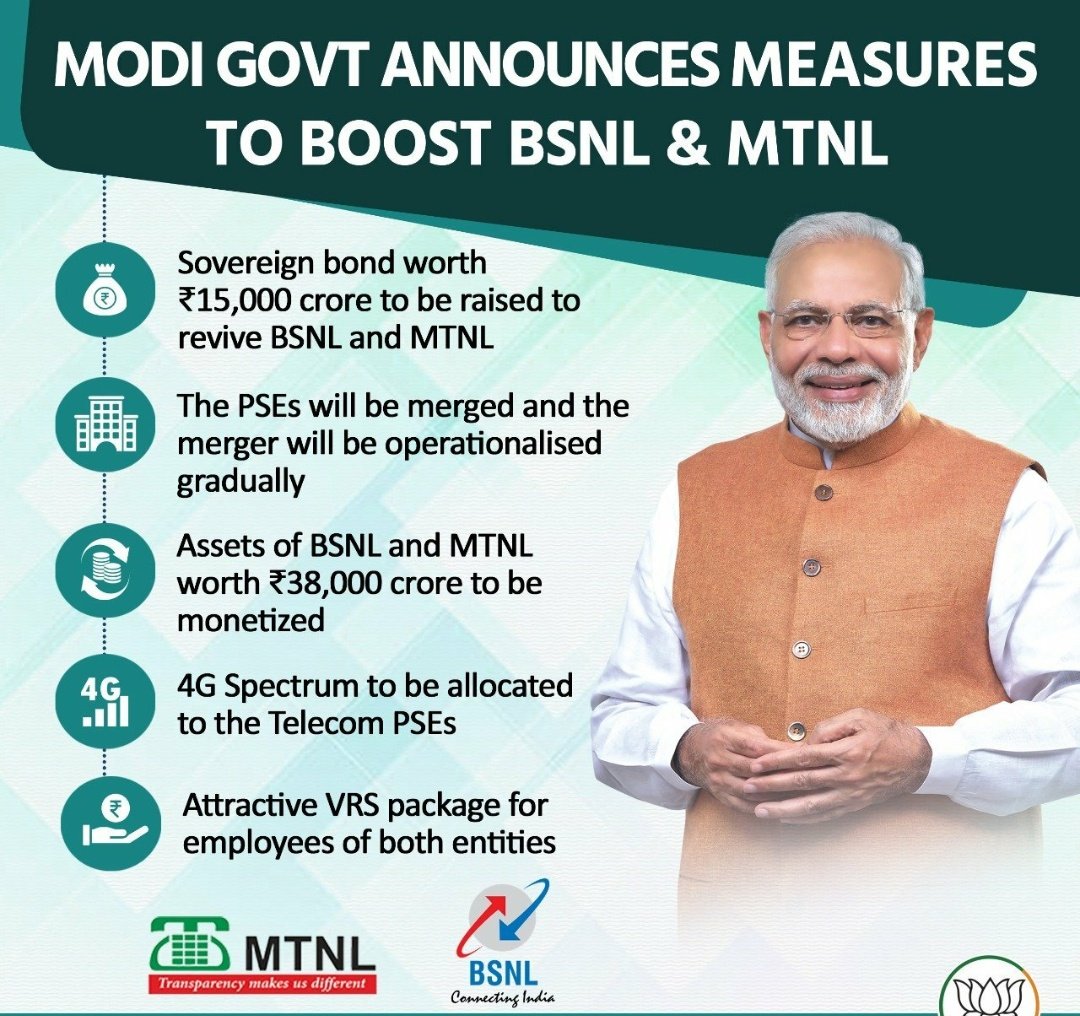 These plans come amid a major slowdown in demand in the Indian economy that has contributed to a 5% dip in economic growth in June.
This revival plan also comes at a time when private telecom operators such as Bharti Airtel and Vodafone Idea, are struggling with a brutal price war that began with the entry of Reliance Jio in September 2016.
With over 1.70 lakh employees, BSNL suffered an estimated loss of Rs 14,000 crore in 2018-19. The doubts about the company's shutdown surfaced when for the first time in its history, BSNL delayed its salaries for the month of February.
Telecom minister Ravi Shankar Prasad said MTNL will operate as a unit of BSNL until the merger is completed. The two companies have a total debt of around ₹40,000 crores.
Justifying the government efforts to revive the two companies, Prasad said these are strategic assets and have been playing an important role in coping with natural calamities and managing army networks.
#Thanks_PM_Modi #reviveBSNl
PM sir, we are immensely grateful for treating BSNL as strategic asset in the country and we will live to your expectation and give quality of service to the common man with dedication and compassion.

— BSNL India (@BSNLCorporate) October 23, 2019
---
Also Read: BSNL Has No Money To Pay Employees, All You Need To Know About The Company's Crisis
Suggest a correction