All section
Close
Explore Categories
Explore Tags
Nagaland: "Police Ke Pathshala" For Students To Combat Cybercrime And Social Media Vigilantism
On August 31, the common hall of all girls Little Flower School in Nagaland's Kohima was jam-packed. Some 500 girls from class 9 to 11 were patiently seated and were calmly listening to the lecture. The girls were excited and anxious, as this was the first time when their lecturer was a police official. The subject of the lecture was not Maths or Science rather it was cybercrime, eve-teasing and more. The session-the first of its kind is an initiative by the Nagaland police called, "Police Ke Pathsala". It was conducted by Inspector General of Police (Range) Sonia Singh which aimed at connecting the police and student community.
The Logical Indian spoke to the Inspector General of Police (IG) Sonia Singh, about the unique Initiative and its motive. While talking about the new 'Pathshala' (school), she said, "The police is there to serve the public which includes the children too. But, the problem is, these children are scared of the police, that adds to the disconnect between the two. So, the initiative's initial aim is to make them (children) aware that the police is on their toes to help them, they just need to place their confidence and faith in us."
Till now, IG Sonia with her small team of junior cops has conducted 10-11 sessions in various schools and colleges of the district. "In every school, I start my session with a question, asking the children if any of them would like to visit a thana (Police Station) ever? But I was surprised to see that not even a single hand stood up."
---
"Child should have faith in police"
She says that this shows how much a child is scared of the police but adds that at the time like this when there is a rise in crime against both girls and boys, it is necessary for every child to know how approachable and accessible the police is. "Every child should be aware of the local SHO, SP and should have their number handy like any other emergency number. So that at the time of a mishap, they can easily call and inform them," said Singh.
When asked why she chooses to start the initiative by teaching children, she said that mostly when children go back home they discuss things with their parents, relatives and other friends and in this way, a lot of work gets done.
These sessions are divided into three parts-slideshow, a lecture, followed by a question answering round. "We wanted to limit the session for two hours, but after the session, the children have so much to ask that in some cases extends up to more than four hours," said officer Sonia.
---
About crimes against women, self-defence and more
The initiative has received a great response from not just the students, but the teachers as well. Explaining what these sessions are all about, she said that it includes awareness about crimes against women, self-defence, road safety and criminal law amendments.
"There are a lot of issues that we discuss, but some of them that like cyberstalking, revenge porn, voyeurism and the misuse of social media are debated with much more interest. Other things like The Protection of Children from Sexual Offences Act (POCSO) and juvenile crime are also tabled in front of the children," she added.
Singh is happy with the overwhelming response she has received from the children and the teachers so far. She says that after the session, the children who were initially terrified of even their uniform became comfortable enough to put across their questions and queries. "It is our pilot project and our department is proud of it. It is for the first time when we are also getting a chance to teach the kids about the things that are discussed properly in our school. It was shocking to see that the children had no knowledge of such important laws. They go to school learn Math and Science thinking all this information is not useful to them, but this will also help them in their life," said Sonia.
---
Teachers appreciate the initiative
At the beginning of this initiative, the Nagaland police department had written, Demi-official letter to heads of 40 colleges and schools across Kohima for the sessions. However, the success of the "Police ke Pathshala" initiative was evident by the first session held on August 31, says Mrs Sonia. "I was overly joyed and that is why we started going to more and more school. Now principals from many other schools and colleges call as to ask if we can deliver a lecture in their institute."
After the first session, the girls of the Little Flower school opened up to their "ma'am" Sonia. A senior faculty member of the school, Arenla Inchen told The Indian Express that, the children felt they could talk freely. Arenla says that the kind of topics like cybercrime and photos being misused on social media covered had a lot of impact on the children. She said that these sessions are necessary as most parents don't talk about this with their children.
---
"Nagaland has a long history of drug abuse"
According to many reports, alcohol, drugs and illicit trafficking have been plaguing Nagaland for a long time. The state has a complete ban on liquor under the Nagaland Total Liquor Prohibition Act, 1989. The Executive Director, Bethesda Youth Welfare Centre, W Chenithung Humtsoe says, "A lot has to do with Nagaland's politically volatile history, too. It has had a psychological impact on many youths, who then began to lose hope about their future and turned to such activities," as reported by The Indian Express.
While talking about the issue, IG Sonia says that the students are aware of the ban on liquor consumption in the state. Still, the problem of substance abuse and liquor consumption has been rampant in the state, because of which there was a need to make the young children aware of this. "During the session, we talked about the issue and we provided them with some case study and data. To make the children aware of such serious problem is part of this initiative and my job. The children should know the consequences of their actions. I assume this is the right age to make them aware of thing so that they do not get embroiled in it," she said.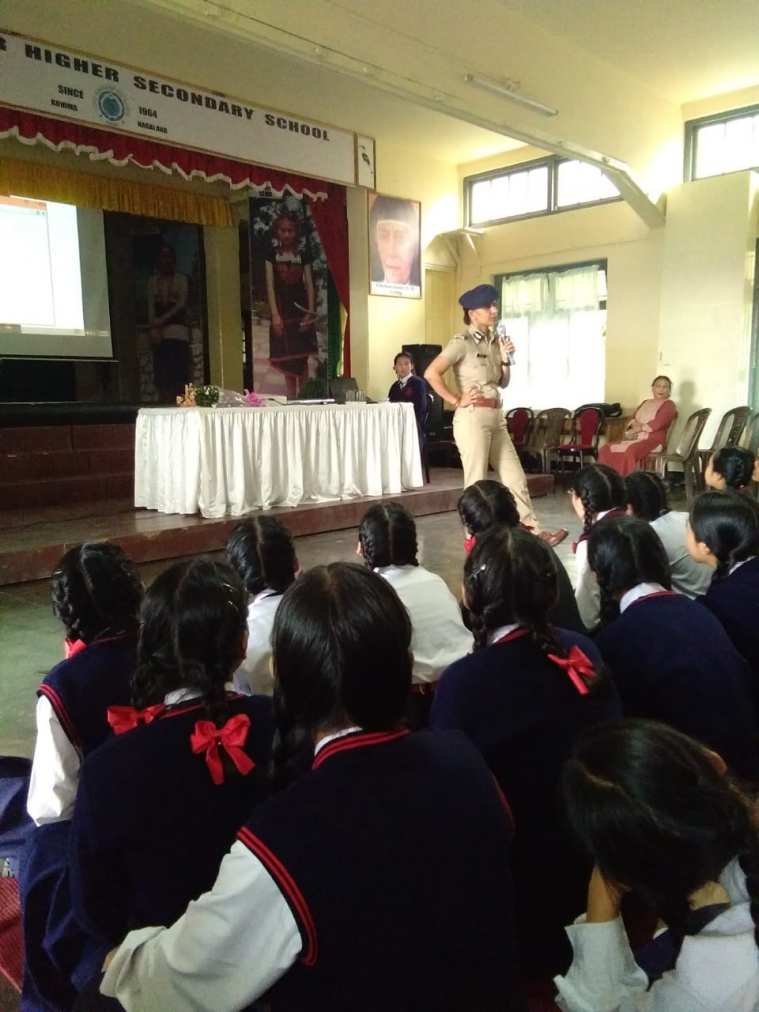 ---
The "Police Ke Pathshala" initiative will be in two phases told IG Sonia. "The first phase will cover Kohima. We will then move on to other parts of Nagaland thereafter," says Singh. "I will not be able to go to all the districts, so a team will be constituted for this. The team will have 10 to 20 officers and some lower staff, and they will be visiting the school. In the second phase, we want to appoint 'Power Angels', at least five from each school, who will act as our eye and ears. This will help us to know what problems the children are facing."
---
The Logical Indian strongly believes that children are the future our society and if we provide holistic education to them, our country will have a bright future. We appreciate IG Sonia Singh on this amazing initiative and hope other states follow suit.
Editor : Ridhima Gupta Gupta